Thank you to all!
I just want to send a note of personal thanks to everyone who has helped Energy2025 grow. Because of you, this blog has gained considerable "traction" - and (hopefully) is helping to make a difference in how we think about energy independence and renewable energy. In some small way, my true hope is for world peace - by
not
having our need for energy be a motivation for violent transgressions against others. Nor be beholden to any other country for our energy needs.
I am doing what I can to build a Renewable Energy Technology Accelerator (
NXergy, Inc.
) in Portland, Oregon. This is important work that needs to be done. I believe we can all do well by doing good. I hope you do, too.
Happy New Year!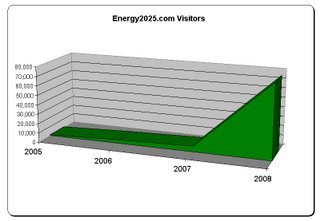 Labels: Invest in the Future